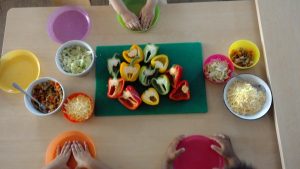 The importance of Being Healthy
 At The Orchard Day Nursery, we realize how important it is to encourage healthy living from a young age. We understand that young children need a varied and nutritious diet, and that learning good eating habits at an early age is essential fora child's health, growth and development.
• We plan varied menus for meals and snacks in advance. We aim to include different tastes, colours and textures, and take into consideration seasonality and availability of fruit and vegetables. All of our meals and snacks meet the national best practice food and drink guidelines, including those for early years settings.
• We cater for the dietary requirements of all children wherever possible, working with families to make sure that they can be accommodated. We aim to ensure that children of all cultures and religions can enjoy appropriate meals and snacks.
• We have a positive and welcoming eating environment in order to encourage children to eat well and develop good eating habits and social skills. We use meals and snacks to teach children about healthy eating and encourage a positive attitude towards mealtimes.